The Latest from Leigh
THE RANCHER'S SECOND CHANCE is out now!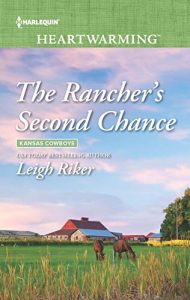 This fifth book of my Kansas Cowboys miniseries is Nell Sutherland and Cooper Ransom's story, and I've been itching to write it ever since Nell first walked "on camera" in HER COWBOY SHERIFF. That's Nell's horse Bear in the cover image.
Nell's a born cowgirl, but she lives in what is still a man's world. How to prove to her protective grandfather that she deserves to inherit his ranch? Then Cooper enters the picture…and we know what he wants.
CLICK HERE TO READ AN EXCERPT! 
A new newsletter coming here soon!
Make sure you watch your inboxes for the good news!
Coming soon—a May newsletter
If you haven't signed up right here, now's a good time!
A Heartwarming Holiday Facebook party is on 10/11
Don't miss it! 
A Heartwarming Thanksgiving Facebook party is on 11/3
Don't miss it!
Heartwarming Christmas makes the USA Today Bestselling List
New Website Launches!
New Seasonal Short Story available November 6th!
My new seasonal short story, "Her Thanksgiving Soldier," will be available to download from the harlequin.com website on November 6th. Check it out. It's free! And so are a dozen more stories by twelve other authors that month, one each Monday/Wednesday/Friday beginning November 2nd.
April 2016 Release and more!
I just finished revisions on Lost and Found Family, a Harlequin Heartwarming release in April 2016. 
And I'm working now on my next Heartwarming novel, tentatively titled Come-Again Cowboy, which takes place on a Kansas bison ranch with a reluctant cowboy and a woman on the run. It will come out next fall.
A HEARTWARMING CHRISTMAS is available now!
A Heartwarming Christmas, a boxed set of twelve novellas by a dozen award-winning authors is for sale now at the bargain price of 99 cents. Don't miss this brief opportunity to get in the holiday spirit before the price goes up!
Next Page »