Leigh's World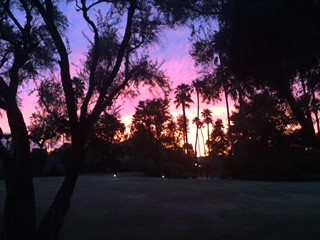 Wow! Look at this view. This was one of the first sunsets I saw from the patio of my new home in Arizona. The photo doesn't do the actual sight justice, but the sky at one point was blood red and I love the peaks in the background. Very dramatic.
After making the long cross-country move from the mountains of Tennessee, I'm finally getting settled here in the desert and this very different environment. I'm really enjoying the wildlife right outside my office window. So far, I've seen a family of Gambel's Quail, another of bunnies (they may be Jackrabbits), a ton of birds—Anna's Hummingbirds, Verdin, several yellow Warblers, Gila Woodpeckers, Flickers, Mourning Doves—and, oh yes, unfortunately, some biting flies and mosquitoes I didn't expect to meet. I could do without those, but I'm told they will disappear once we get a light frost.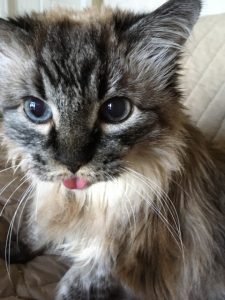 In my new office it also feels just right to have my sweet Daisy's picture near me every day while I write. Here she was in a silly mood but, sad to say, she passed away in January. From the day she joined our household twelve years ago, she was the perfect companion, perfect for our family, but after her year-long battle with various health issues she is now at peace. I still miss her so much, and I'm certainly not ready to adopt another rescue cat to help fill the hole in my heart that Daisy has left, but sooner or later I will give another kitty a home. I think Daisy would like that.
In the meantime, other than getting organized here and making this new house a home, I've been very busy with book projects. Happily, I'm continuing my Kansas Cowboys series, and the next in line, HER COWBOY SHERIFF, will come out in January 2019. Then in May THE RANCHER'S SECOND CHANCE will be released, also from Harlequin Heartwarming. And I'm now at work on another, tentatively titled THEIR COWBOY DADDY.
Here's wishing all my readers a wonderful holiday season! With Halloween now over, it's coming up fast. Because of my move this fall, I didn't participate in the newest Christmas Town collection, as I have in previous years, but this is also a fabulous treat: 12 Days of Heartwarming Christmas. It's a bit different this time, a dozen independent stories that all tie together. They're available on Amazon and at other etailers.